BOCA RATON, Fla, May 17, 2023 -- Sensus Healthcare Inc. (Nasdaq:SRTS), the leading manufacturer of advanced medical devices for non-surgical skin cancer and keloid scar treatment, is announcing that its superficial radiation therapy SRT-100 system has shown promising results treating Cutaneous Mast Cell Tumors (MCTs) in pets. This new limited study, just published in the Journal of the American Veterinary Medical Association, demonstrates the potential effectiveness and safety of SRT treatment.
Cutaneous MCT is a common skin tumor in dogs and cats, and its treatment often involves surgery or chemotherapy. The limited retrospective case series evaluated the use of SRT as a non-invasive alternative for pets with MCT on the head. The results showed SRT treatment achieved a complete response in all cases that completed the intended protocol, with no significant adverse events reported.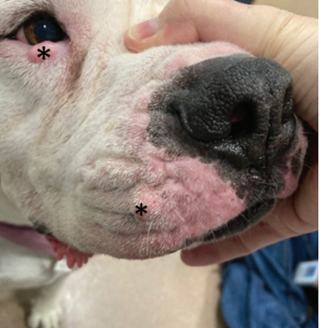 Patient that presented with 2 mast cell tumors (MCTs; asterisk) on the lower eyelid and muzzle. Surgical option for the MCT of the eyelid was presented as enucleation.
"The results of this limited retrospective case series are encouraging and demonstrate the potential of SRT-100 as a treatment option for MCTs," said Dr. Tiffany W. Martin, Department of Environmental and Radiological Health Sciences, College of Veterinary Medicine and Biomedical Sciences, Colorado State University.
The objective of the study was to report preliminary findings of hypofractionated superficial radiotherapy for treatment of cutaneous mast cell tumors (MCTs) and report the acute and late toxicity associated with its use. Superficial radiation therapy was effective in the limited study population, and patients experienced minimal side effects for treatment of cutaneous MCTs.
Joe Sardano, chairman and CEO of Sensus Healthcare, said, "This study provides further evidence of the efficacy and safety of SRT. We're looking forward to bringing this non-invasive and cost-effective treatment option for the pet industry to market. Providing a less harmful radiation source with fabulous outcomes is of utmost concern to pet owners.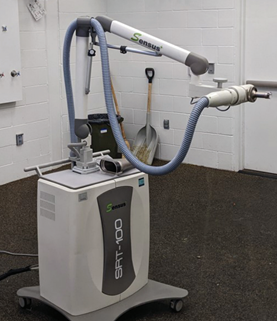 The Sensus SRT-100 superficial x-ray unit used to treat all patients presented in this study.
"SRT is mobile," Sardano continued. "It can be placed in a mobile van to service several veterinary clinics in various sections of a community, region, or state. Treatments are fast and efficient for the vets to administer and extremely cost effective compared to higher energy and more costly devices."
For more information, please contact: [email protected]
About Sensus Healthcare
Sensus Healthcare, Inc. is a medical device company specializing in highly effective, non-invasive, minimally invasive, and cost-effective treatments for both oncological and non-oncological conditions. Sensus offers its proprietary low-energy X-ray technology known as superficial radiation therapy (SRT), which is the culmination of more than a decade of research and development, to treat non-melanoma skin cancers and keloids with its SRT-100™, SRT-100+™, and SRT-100 Vision™ systems. With its portfolio of innovative medical device products, including aesthetic lasers and its needleless TransDermal Infusion System™, Sensus provides revolutionary treatment options to enhance the quality of life of patients around the world. For more information, visit www.sensushealthcare.com.
Forward-Looking Statements
This press release includes statements that are, or may be deemed, 'forward-looking statements.' In some cases, these statements can be identified by the use of forward-looking terminology such as "believes," "estimates," "anticipates," "expects," "plans," "intends," "may," "could," "might," "will," "should," "approximately," "potential" or negative or other variations of those terms or comparable terminology, although not all forward-looking statements contain these words.
Forward-looking statements involve risks and uncertainties because they relate to events, developments, and circumstances relating to Sensus, our industry, and/or general economic or other conditions that may or may not occur in the future or may occur on longer or shorter timelines or to a greater or lesser degree than anticipated. Although we believe that we have a reasonable basis for each forward-looking statement contained in this press release, forward-looking statements are not guarantees of future performance, and our actual results of operations, financial condition and liquidity, and the development of the industry in which we operate may differ materially from the forward looking statements contained in this press release, as a result of the following factors, among others: our ability to return to profitability; our ability to sell the number of SRT units we anticipate for the balance of 2023; the possibility that inflationary pressures continue to impact our sales; our ability to obtain and maintain the intellectual property needed to adequately protect our products, and our ability to avoid infringing or otherwise violating the intellectual property rights of third parties; the level and availability of government and/or third party payor reimbursement for clinical procedures using our products, and the willingness of healthcare providers to purchase our products if the level of reimbursement declines; the regulatory requirements applicable to us and our competitors; our ability to efficiently manage our manufacturing processes and costs; the risks arising from doing business in China and other foreign countries; legislation, regulation, or other governmental action that affects our products, taxes, international trade regulation, or other aspects of our business; concentration of our customers in the U.S. and China, including the concentration of sales to one particular customer in the U.S.; and other risks described from time to time in our filings with the Securities and Exchange Commission, including our Annual Report on Form 10-K and Quarterly Reports on Form 10-Q.
To date, we do not expect that the Russian invasion of Ukraine and global geopolitical uncertainty have not had any particular impact on our business, but we continue to monitor developments and will address them in future disclosures, if applicable.
In addition, even if future events, developments, and circumstances are consistent with the forward-looking statements contained in this press release, they may not be predictive of results or developments in future periods. Any forward-looking statements that we make in this press release speak only as of the date of such statement, and we undertake no obligation to update such statements to reflect events or circumstances after the date of this press release, except as may be required by applicable law. You should read carefully our "Introductory Note Regarding Forward-Looking Information" and the factors described in the "Risk Factors" section of our periodic reports filed with the Securities and Exchange Commission to better understand the risks and uncertainties inherent in our business.
# # #
Contact:
LHA Investor Relations
Kim Sutton Golodetz
212-838-3777
[email protected]